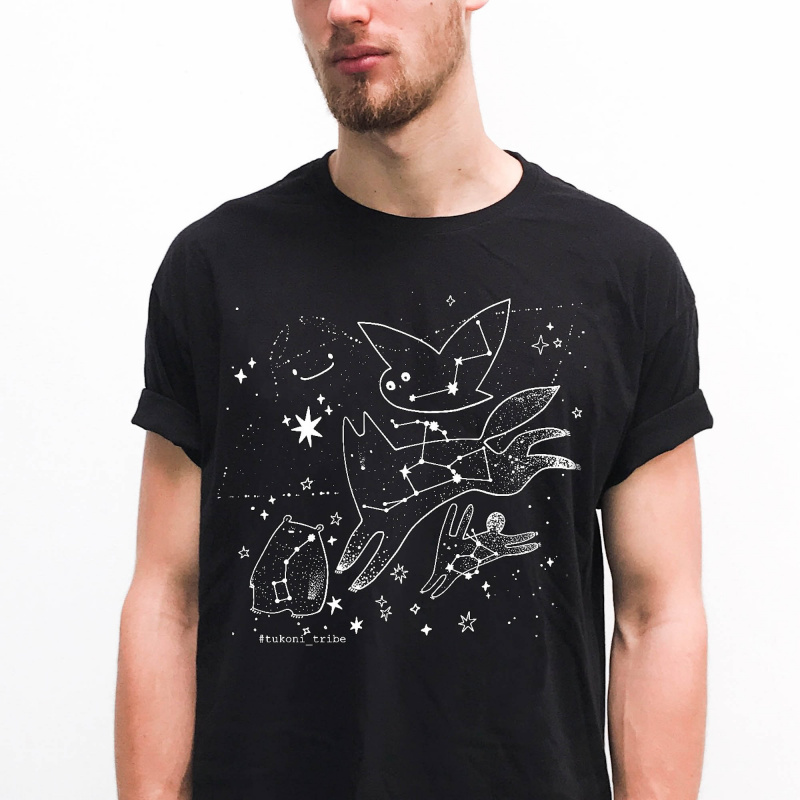  
man's glowing t-shirt "Constellation Tukonies"
to order

image glows in the dark
image size ~ A3 (297x420 mm)
period of manufacturing is 2-5 working days
©2014 Oksana Bula
Orion The Wolf is very brave.

If you like the constellations just like we do - this t-shirt is exactly for you! At least because the image GLOWS IN THE DARK!

The graphic image is printed on the fabric (!) manually and individually. We use a screen printing technique with a special matrix.

The image is charged from sunlight and artificial light. The color of the picture is light-mint, almost white. It glows in a yellowish tint.
fabric:

- Starry t-shirts are available in black and pink colors.

100% cotton

* height of model is 185 cm, he is wearing size L on this photo.

Starry sweatshirts and t-shirts project was our dream. We worked for a long time to make it come true. We have chosen the best materials and created things we wanted to wear ourselves :)
> choose the size according to the size table on the last photo

> care

Hand washing -  turn the picture inward before washing. Wash in cool water up to 30 degrees, do not twist, do not apply pressure when squeezing;

Machine washing - turn the picture inward before washing. Delicate wash, no more than 30 degrees, maximum 400 turns;

Ironing - turn the picture inward before ironing. Temperature not more than 110 degrees.


* We try to show the real shade of the product, but it can differ due to monitor settings.

Please pay attention:

each image prints manually in one copy in accordance with the image you have chosen. So it is made individually for you. Clothe that was made for an individual order can not be returned or exchanged. If you have any questions, please write to us: shop.tukoni@gmail.com. We will be happy to help you!
You might also like